Hello there, lovelies. I have missed you since I stopped posting in the middle of October. Lots if things have changed. Most of those things for the good. We moved out of the MIL's house and into our own huge place. We got a new dog that drives me crazy about 35% of the time. Munchkin started a new school.
And the one bad thing is I've gained about 10 pounds. Blech! I am completely unhappy with this and myself. The wife and I have talked about and decided to change our dinners. We got back to the gym after being gone for approximately the same amount of time I have not been blogging. And we've started walking/jogging as a family. Wifey even bought me some awesome new Nike running shoes.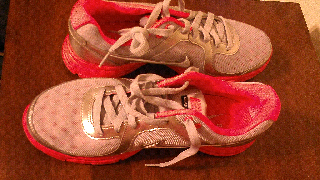 And here I am today. I'm having a good hair and makeup day. It helps that I bought new powder. New makeup always makes me feel happy.
Shirt - Target
Cardi - Consignment (its made by Eddie Bauer)
Necklace and earrings (which you can't see) - Kohl's